Microsoft Power BI: Cost, Security & Implementation
2018 marks the 11th consecutive year that Gartner has recognized Microsoft as a leader in "Analytics and Business Intelligence Platforms." This is largely due to Microsoft Power BI (business intelligence), a suite of tools that provides data-driven insights both internally and client-side. Power BI incorporates data preparation, discovery, interactive dashboards, and augmented analytics into a single, intuitive channel. This range is integral to Power BI's key tenet - making your data work for you. By supporting a productive, diverse data culture, Power BI empowers employees to better understand and utilize the information at their disposal.
Here Are the Business Benefits of Microsoft Power BI:
How Does Power BI Work?
Power BI is a collection of apps, connectors, and software services that work hand in hand to turn unrelated sources of data into logical, interactive, and visually immersive insights. When leveraging Power BI, the user experience is centered around the home dashboard. Through these personalized dashboards, users can view their files, data streams, favorites, shared content, applications, reports, and workspaces. Power BI pulls this data from a range of sources, selected by the user. These include, but are not limited to:
Web pages

SharePoint Lists

Microsoft Excel and CSV files

SaaS-based solutions

including Salesforce, MailChimp, and Facebook




Data sources can be either on-premises, in the cloud, or hybridized. This simplified approach allows for ad hoc analysis, dependent upon user need. The dashboards are live, tracking and reflecting the most recent data. The same goes for alterations made by team members. Power BI immediately notifies all members when a change has been made to a shared project. And through the Power BI Mobile App, users can access their data and reports from anywhere, on any device.
The Power BI app is generally available for Microsoft Teams, which can help organize and motivate workers in a variety of ways such as:
Power BI goals (preview) - this helps anyone on a team become more goal-driven by helping them define objectives and set targets either by manually updating progress or connecting to the Power BI data.
Power BI quick create - this allows anyone to visualize and summarize a table of data by copying and pasting
Power BI app templates - this helps you find different templates for analyzing data from other SaaS services.
Datasets hub - this provides one location to discover data


When looking at "Ease of Use and Visual Appeal," Gartner reported: "Microsoft's customer reference scores place it in the top quartile... There are a number of features within the product that contribute to its overall ease of use, including its primarily cloud deployment model. Microsoft was early to the industry in terms of a natural language/search interface with Microsoft Q&A".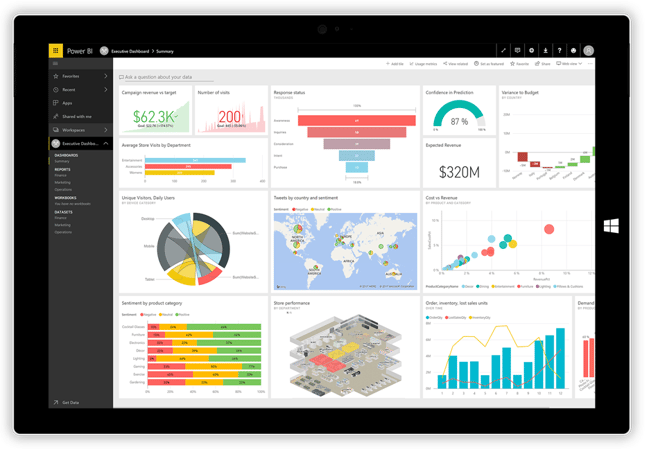 Image courtesy of Microsoft.
How to Use Power BI
Once integrated, data can be turned into intuitive, visually striking presentations and interactive reports. Power BI offers over 85 modern data visuals, available as drag-and-drop canvases. Some of the most popular include:
Word clouds

Flow and globe maps

Timelines and forecasts

All visualizations are pinned to the dashboard. After finalization, these reports can be published for your organization on the web. Power BI also allows users to create mobile-optimized reports for viewers on the go, ensuring continuity across devices. In their assessment of Power BI's offerings, PC Magazine wrote "giving information a fresh perspective can be extremely valuable and is a core part of the self-service BI value proposition: more people looking at more and different data in new ways... Telling a data story visually."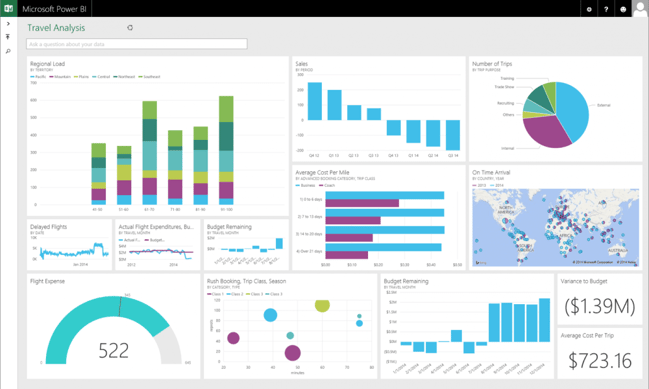 Image courtesy of Microsoft.
Is

Power BI Secure?
Because Power BI is part of Microsoft's cloud platform, the service is fortified with a number of security features. Power BI uses Azure Active Directory to store and manage user identities, authenticate logins, and cross check credentials. While user dashboards are cached in Power BI, access to the integrated data sets or reports requires further authentication. Power BI tracks how data is being used, who is accessing it, and on which devices. Your data is secured through network security features in Power BI, which include:
Service tags - help in achieving network isolation
Private links - enable secure access through Azure networking private endpoints
VNet (new) - enable secure outbound connectivity from Power BI to data sources within a VNet

Furthermore, Power BI also uses Active Directory to securely manage the storage of data in Azure BLOB storage, or metadata in the SQL database. Again, Power BI tracks anomalies, usage, and access, to ensure that all data is being secured. By monitoring policies and providing proactive support, Power BI positions businesses to meet all security, governance, and regulatory requirements. And the coverage is scalable, providing enterprise-wide support that will grow with your business.
Implementing Power BI
In today's competitive market, can your business afford to underutilize the information at its disposal? Power BI allows your employees to optimize their insights, improving collaboration, efficiency, and long-term growth. Need help with a Power BI implementation? A technology partner such as iCorps can provide the critical expertise, and IT support you need to deliver on the Power BI promise - making your data work for you.



Get the Latest IT News from iCorps!
Subscribe to our newsletter and get amazing content delivered straight to your inbox.
Resources