Enterprise Project Management with Microsoft Planner
Planner is a highly visual, integral offering in Microsoft's productivity suite. The application is a home base for project management, allowing users to create and develop tasks, assign oversight and responsibilities, and track progress. Furthermore, Planner integrates across Microsoft 365, allowing users to pull information from applications such as Teams for improved efficiency. Planner works across all devices and is also available as a mobile app.
Here Are a Few Ways that Planner Is Streamlining Collaborative Management:
Planner Hub
Upon opening the application, users are directed to Planner Hub. This homepage has activity grouped into "plans," that are customized according to the topic. These plans are presented in one of three format options: board, charts, and schedule. The image above is organized in "board" view, with five columns (or "buckets") under which information has been grouped. These buckets can be created/deleted as needed, and customized depending on a project's specific needs. For example, if the overarching plan was focused on content creation, the buckets might reflect stages such as: idea development, production, peer review, approval, etc.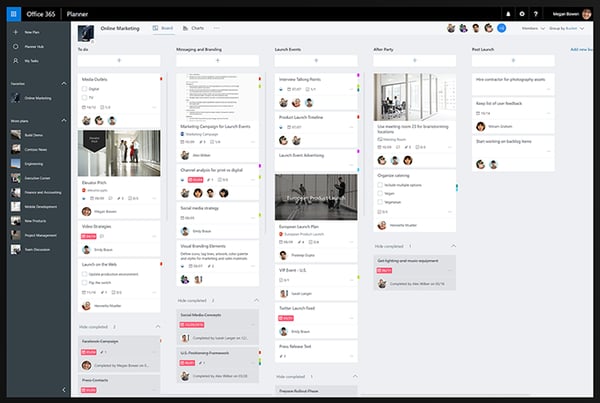 Image courtesy of Microsoft.
Within these buckets are the tasks themselves. Again, these tasks are highly customizable, but generally prompt users to: name the task, set a due date, assign to a specific team member, update progress, write a description, attach images or files, set a preview image, and designate the intended channel. Other members can then add updates, without having to switch between applications. Users can also create checklists for multi-step tasks, or those with multiple assigned members.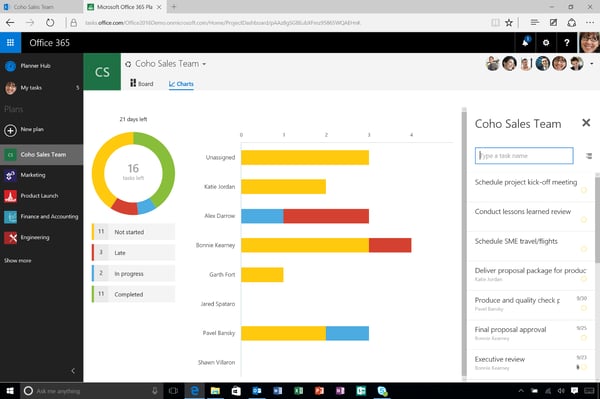 Image courtesy of Microsoft.
"Charts" provides a more macroscopic view of a given plan. Under charts, users can see how many tasks have been completed, are currently in progress, or are late. Charts also break down how many tasks are in each bucket, and which members have been assigned to them. "Schedule" allows users to see all of the open/in progress tasks in calendar view, on a weekly or monthly basis. This provides users a clear visualization of deadlines, and can be integrated with Outlook's calendar feature, providing reminders when tasks are due.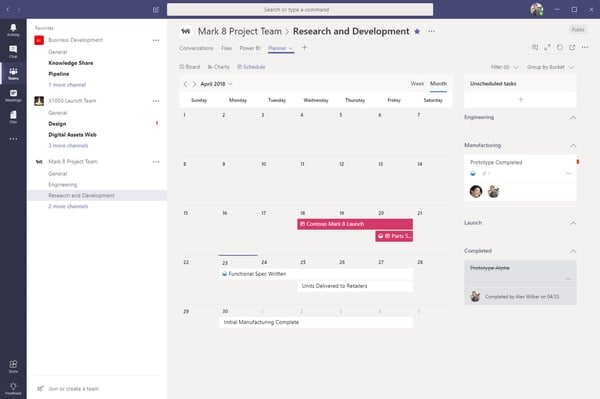 Image courtesy of Microsoft.
Planner has a "My Tasks" page that keeps track of all your assignments. These tasks can be grouped by stage of completion, plan, or due date. Again, tasks can be integrated with Outlook, and Planner will send notifications when you are assigned a new task, or added to a conversation. Planner's newest feature is its "Recommended" section, which was designed to help users discover plans that are relevant to their work. The new section will show new plans that have tasks assigned to employees, but that they haven't opened yet. You can find this new feature between the recent and all sections. The other new feature in Planner is that you can move tasks to any of your plans. Before this update, you could only move tasks between the same Microsoft 365 group. This made it difficult to coordinate tasks across different teams. Now, with this new feature, you can move tasks to any plan no matter what group people are in.
Planning Securely
Each plan features member controls, tracking users for additional security and management options. When creating a new plan, users are given two privacy options: public (anyone in your organization can see plan contents), or private (only added members can see plan contents). This ensures selective data share, for vetted collaboration and decreased risk.
In addition to enterprise-level security, Planner also fosters peer to peer transparency:
Users always know what they are working on. This reduces duplicate tasks and redundancy, for better use of time.

Members can see all of their tasks across multiple plans, allowing for better time management, and prioritization, based on deadlines or expected length of time.

With email reminders, employees stay on top of approaching deliverables.

Planner promotes team collaboration with real-time updates and intra-application communication.

The platform provides a high-level overview of current projects, and employee workload, for optimized allocation of new or pending tasks.

Decreasing the reliance on disparate management systems reduces the likelihood of slipped deadlines or errors.

These are just some of the ways that Microsoft's Planner can help streamline your employees' performance, ensuring that projects are handled in a timely, organized, and collaborative manner. Contact an iCorps expert today to learn more about optimizing the many resources Microsoft's productivity suite has to offer.


Get the Latest IT News from iCorps!
Subscribe to our newsletter and get amazing content delivered straight to your inbox.