Streamline Collaboration with Microsoft Teams
More companies are recognizing the value of a centralized employee experience, through platforms that combine the best of personal management tools and department-wide collaborative resources. This would explain the seemingly meteoric rise of Microsoft Teams. Originally poised as Skype's replacement, Microsoft Teams has rapidly come into its own as a hub for collaboration and productivity - that easily scales alongside your business.
Here's Why 13 Million Daily Users Choose Microsoft Teams:
Working Smarter
Microsoft Teams is a next-generation calling and meeting experience, built on Office 365's hyper-scale, enterprise-grade cloud. The platform combines workplace chat, meetings, notes, and attachments for an intuitive collaborative experience. This translates to:
A faster, more efficient user experience

Content archiving and retention for easy discovery and data compliance

Interactive meetings featuring real-time communication, files, and project boards


The Teams interface makes it easy to create projects, invite team members, and share files. Employees can keep track of deadlines, provide real-time feedback, and use the "command box" for smart search. Higher-ups can leverage scheduling and shift management features to easily delegate responsibility and monitor progress. Teams also integrates with your Outlook calendar, allowing you to view existing meetings and schedule new ones, while the "Activity" tab tracks unread messages, mentions, replies, etc.



Image courtesy of Microsoft
Because Teams is part of the Office 365 suite, it delivers the latest in advanced security for employees and clients. Teams enforces two-factor authentication on both group and organization-wide levels. The application features single sign-on through Azure Active Directory, which provides access and identity management for users of cloud-based applications. Teams also encrypts data both in transit and at rest, and all files are stored through Microsoft SharePoint.
The Applications You Need - In One Place
As a component of the Office 365 suite, Teams has built-in applications for Word, PowerPoint, SharePoint, OneDrive, etc. allowing your employees to collaborate through familiar mediums. Teams' "Apps" page allows your employees to customize their experience, by providing third-party integrations for apps they already use - such as Salesforce or ADP. For those looking to expand their resource pool, Teams also curates recommendations for Productivity, Sales and Support, Project Management, Analytics and Business Intelligence, and more.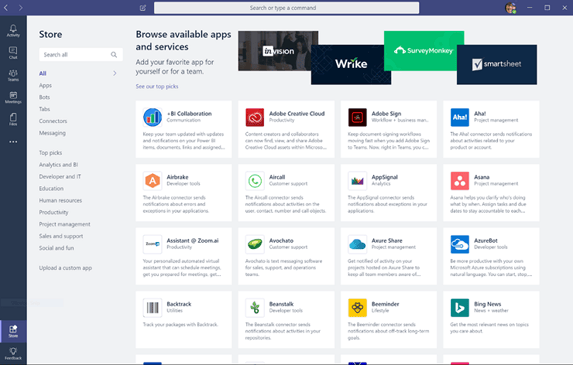 Image courtesy of Microsoft
If your employees need to communicate with individuals outside your organization - they don't need to leave Teams. You can host video, audio, and web conferences with optional recording for those unable to attend. Live captions, subtitles, and translations in over 50 languages offer additional layers of engagement and accessibility for participants. And these external collaborators don't need to be Teams' customers. Your employees can still reach them via conferencing, or a Teams integration with your existing phone system.
The Latest Updates for Teams Users
As of February, Microsoft has rolled out a number of new features for Teams' users. With smarter integration between Teams and Outlook, employees can now move conversations from one platform to the other. New tagging tools allow employees to be grouped according to projects, departments, or specializations. By choosing a tag, rather than individual employees, users can quickly share relevant information with select groups. Microsoft has also refreshed the "Files" tab in Teams, with file sync for PCs and Macs, rich document previews, work with metadata, and more. From an administrative perspective, Teams has made it easier for managers to review and suggest integrations for their employees. The "Manage apps" page streamlines testing and deployment of these line-of-business applications.
As with any cloud-based resource, extracting Teams' complete, long-term value requires expertise. iCorps' staff can ensure that your Teams' integration is seamless for both staff and clientele. Reach out today to learn how.
Get the Latest IT News from iCorps!
Subscribe to our newsletter and get amazing content delivered straight to your inbox.