Content Management with Microsoft Sharepoint
Microsoft's SharePoint has become a recognized leader in the realm of content management, as a highly collaborative web-based platform that integrates across the Microsoft 365 suite. Although SharePoint was originally designed as a document management and storage system, it has rapidly expanded its capabilities to better serve the modern workforce. SharePoint now covers the storage, retrieval, searching, archiving, tracking, management, and reporting on electric documents. Add in real-time editing, and encrypted information management, and you have an information powerhouse currently serving over 190 million users, across 400,000 customer organizations.
Here's What You Need to Know About Microsoft SharePoint
Building with SharePoint
Essentially, SharePoint allows users to create intranet sites, pages, lists, and document libraries that facilitate real-time content share. These sites can have designated functions, ex. a "communication" or "teams" site, and can be further customized with text, images, and documents.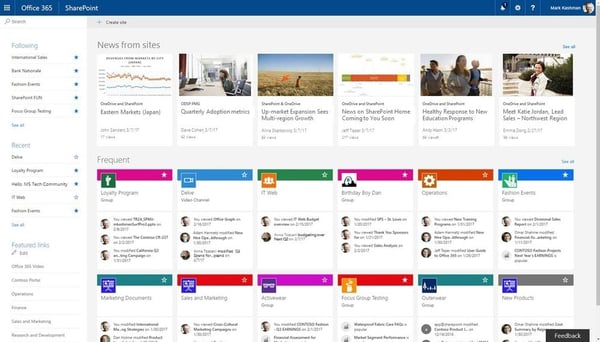 Image courtesy of Microsoft.
Once these sites have been created, members can easily share resources, provide project updates, and share messages with striking visual accompaniments. This sharing can be confined to a single group, teams, or broadcast across the entire company. SharePoint Auto-News Digest allows you to send automated emails to employees about the latest news. SharePoint does this through Microsoft Intelligence and a specific section of news posts, which allow employees to catch up on important news that they may have missed.
Because SharePoint integrates with Office 365, enterprise search quickly pulls resources from across the suite. Content is organized and managed with version history, tagging, metadata, records management, and retention policies, to improve efficiency. SharePoint is also available as a mobile application, giving members real-time updates and information. The application also assists in automating business processes, through alerts and efficient workflows. SharePoint allows users to securely share content with collaborators both inside, and outside their organization. This is ensured via four different site configurations, which are selected when a site is first created: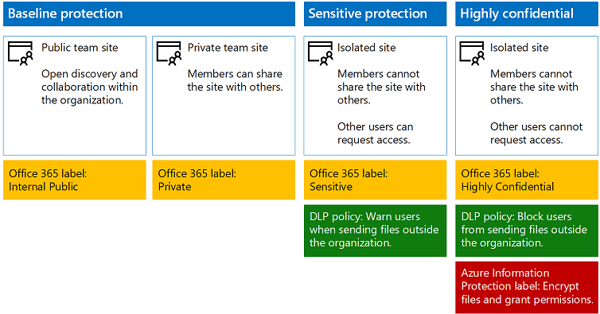 Image courtesy of Microsoft.
In addition to these built-in site controls, SharePoint also has data-loss prevention policies which carefully identify and monitor sensitive information, ensuring that content is being used and shared appropriately. Because end-users are still largely responsible for data loss, SharePoint also leverages In-Place Hold which preserves items based on queries. In-Place Hold automatically prevents content deletion or editing, accidental or otherwise.

SharePoint Spaces
Microsoft also developed SharePoint Spaces, which integrates "mixed reality." Building off the success of VR-based gaming platforms, Microsoft's goal is to enhance the everyday working environment through interactive displays. Spaces creates 3-D, 360-degree simulations that focus on product development, recruiting, and training.
Employees can import 3-D product prototypes, annotate and edit them, and visualize design changes. Microsoft is also working on visualizations for sales figures and training manuals, creating a new way for employees to interact with data and resources. Like all SharePoint products, spaces will also be highly configurable, so that users can customize their in-depth experiences based on the project, team, and pending deliverables. As a cloud-based service, SharePoint Online is a highly scalable platform that can grow with your company. Contact an iCorps expert today to learn more about optimizing the many resources Microsoft's productivity suite has to offer.

Get the Latest IT News from iCorps!
Subscribe to our newsletter and get amazing content delivered straight to your inbox.
Resources