Top Cloud Computing Risks of 2019
More likely than not, some component of your business runs in the cloud. Whether it's your brand's presence on social media, to file sharing through Office 365, employees are becoming more comfortable storing sensitive content in the cloud. But is this comfort warranted? Considering 69% of organizations trust cloud providers to keep their data safe, there is a clear discrepancy between what the cloud offers, and our role in that process.
Here Are the Top Cloud Computing Risks of 2019:
Understanding Cloud Content
In McAfee's 2019 Cloud Adoption and Risk Report, it's clear that our familiarity with cloud platforms has manifested in our content. 21% of cloud files now contain sensitive information, broken up as follows: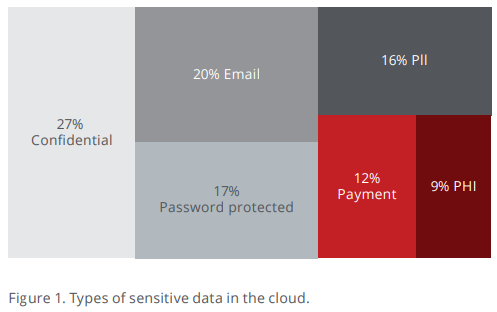 Image courtesy of McAfee's 2019 Cloud Adoption and Risk Report
The proliferation of sensitive data has increased 53% year over year. While this can be beneficial from a security perspective, as many cloud platforms offer multi-factor authentication and end-to-end encryption, content sharing can pose issues. Typically, if employees are sharing information within their organization, through secure and approved platforms, there isn't a problem. When this content is sent to outside parties, often via open links, risk increases. For one thing, companies operate with different security standards, so docking may create undue vulnerabilities. Given that open link sharing has increased 25% in the past two years, employees will have to be more vigilant about the data they share, and the access it grants the recipient.
Misconfiguration
Naturally, with the growing popularity of the cloud, comes high adoption of Infrastructure-as-a-Service and Platform-as-a-Service. 65% of organizations now use some IaaS, while 52% utilize some PaaS. Hybrid cloud strategies have become most prominent, with 78% of IaaS and PaaS users leveraging both AWS and Microsoft Azure cloud services. Unfortunately, McAfee found that the average enterprise has 14 misconfigured IaaS or PaaS instances running at any given time. While this may not sound particularly high, the cumulative effect is 2,269 individual misconfigurations monthly.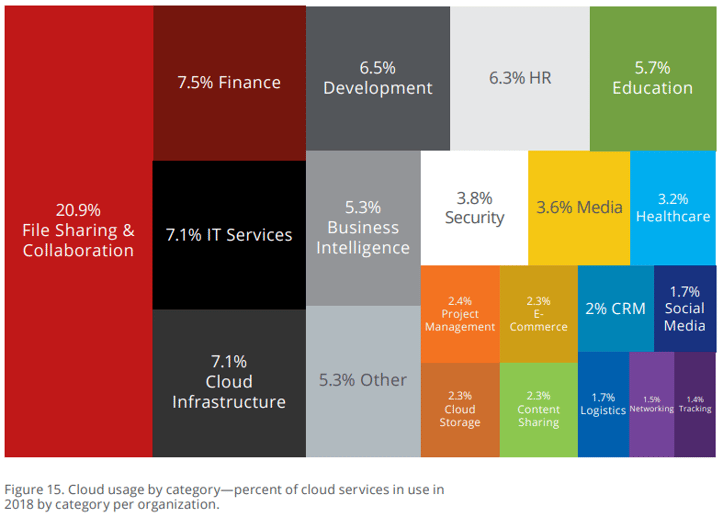 Image courtesy of McAfee's 2019 Cloud Adoption and Risk Report
The Perception Gap
In addition to vulnerabilities that originate internally, organizations are contending with greater threat events in the cloud. These have increased 27.7% year over year, with 80% of organizations now reporting at least one compromised account threat monthly. Given the number of cloud services businesses use, this number may not be especially surprising. When polled, companies believed they used an average of 30 cloud services. In actuality, McAfee found that enterprises use upwards of 1,935 unique cloud services —a perception gap of 98%.
If you're concerned about your company's cloud posture, don't worry. The cloud, like any core resource, can be refined around your unique needs. Give your employees the power to collaborate safely, and secure your sensitive information, with a cloud built for you. For more information about emerging cloud computing risks, reach out to our cloud experts.


Get the Latest IT News from iCorps!
Subscribe to our newsletter and get amazing content delivered straight to your inbox.
Resources