Financial Impact of Data Breaches on Businesses
The impact of a data breach can be devastating to any company, with fallout ranging from recovery costs to decreased customer trust. Research indicates that these costs are only increasing, particularly for businesses in the United States. According to the 2017 Cost of Data Breach Study conducted by the Ponemon Institute and sponsored by IBM, the average total cost of a data breach has now reached $3.62 million, with each stolen or lost record estimated at $141. The average size of a data breach has increased by 1.8%, and heavily regulated industries such as healthcare, education, and finance, feel these events more immediately, with costs substantially higher than the overall average. Ponemon also found that businesses that experienced a data breach have a 27.7% likelihood of facing another within two years.
Here's What You Need to Know About the Financial Impact of Data Breaches
What Is the Average Financial Impact of a Data Breach on Businesses?
Looking specifically at trends in the United States, a few numbers stand out. In 2017, the cost per capita of a data breach in the U.S. increased from $221 to $225, and the average total organizational cost has jumped from $7.01 to $7.35 million (roughly $3.73 million above the global average).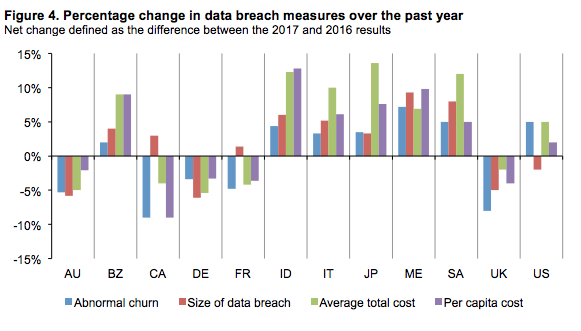 Image courtesy of Ponemon.
The U.S. currently has the highest breach response costs, $1.56 million, and took the largest financial hit due to loss of business, $4.13 million. Companies in the U.S. and Canada also spent the most to resolve malicious attacks, at $244 per compromised record. Of data breaches:
52% were due to hackers and criminal insiders, at $201 per record
24% were from system glitches, at $181 per record
24% resulted from human error, at $180 per record
The number of compromised records per attack was approximately 28,512 in the U.S., 4,500 higher than the global average. Breaches that were contained in less than 30 days cost approximately $2.83 million. After 30 days, the cost rose to an estimated $3.77 million.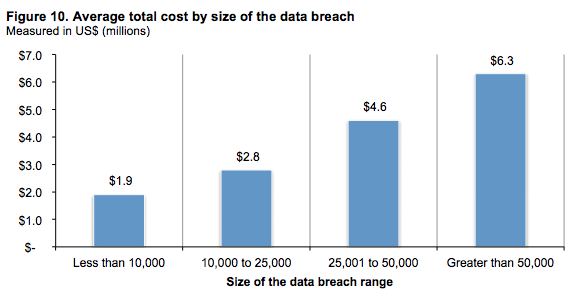 Image courtesy of Ponemon.
The rising impact of data breaches underscores the importance of having a proactive, multi-layered cybersecurity solution in place. Through data protection tools, an iCorps expert can ensure that your employee and client information, intellectual property, and time do not fall prey to cybercriminals. Learn how iCorps' Managed Security services can help you maintain the upper hand, protecting your network, and positioning your business for long-term success.
Get the Latest IT News from iCorps!
Subscribe to our newsletter and get amazing content delivered straight to your inbox.
Resources