[VIDEO] 6 Ways Cloud-Based Email Can Optimize and Secure Your Inbox
On any given day, the average employee sends and receives 126 emails. For such an ingrained part of business life, your email deserves to be operating at optimal efficiency. Fortunately, cloud computing can alleviate up to 90% of repetitive daily tasks, while ensuring that your end-users communicate and collaborate safely.
Here Are the 6 Ways Cloud-Based Email Can Optimize and Secure Your Inbox
Let Jeff Explain...
Cloud-Based Exchange
By moving Exchange to the cloud, your employees have access to their email content and business calendar. They can customize their email experience through focused inbox settings, message prioritization, and easy document collaboration. Through Microsoft's App Store, users can customize their inbox with "Add-Ins". There are over 550 Add-Ins for Outlook, with tools such as Salesforce, Hubspot Sales, PayPal, Trello, and more. These features are grouped by industry and task category, ensuring your teams find the best-fit solutions for their unique needs. Add-Ins provide employees the internal line-of-business applications they use every day, without further capital investment in on-premise hardware.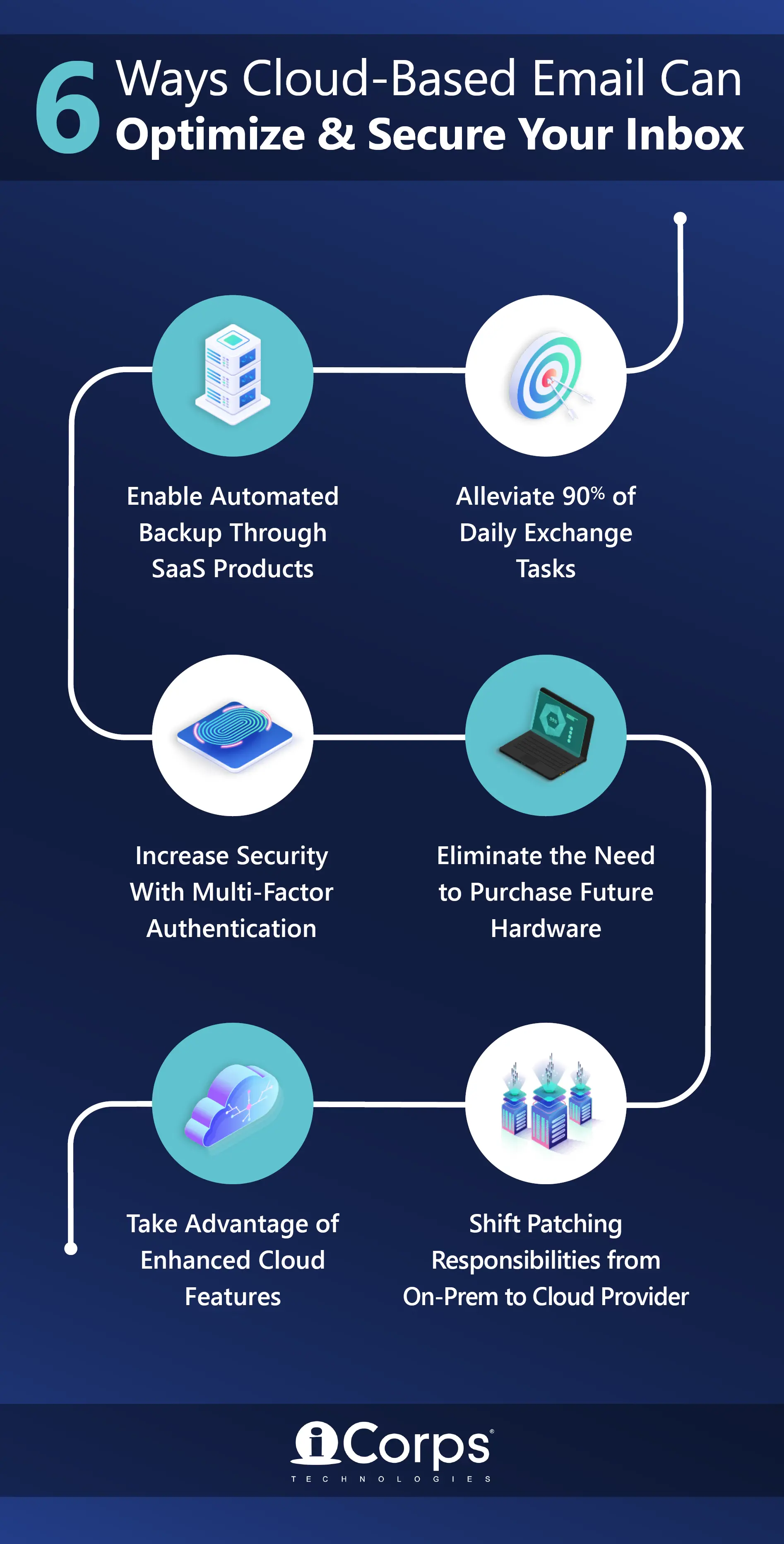 Automated Data Backups and Business Continuity
For SMBs wary of moving Exchange to the cloud, consider how doing so would allow you to leverage an infrastructure backed by enterprise-level security standards. Microsoft has invested billions of dollars to expand its data centers and ensure geo-redundancy. Azure, Microsoft's cloud, is available in 140 countries - providing data resilience and greater flexibility to meet varied industry regulations. By working with a Managed Services Provider (MSP), your business can take advantage of the resources Microsoft has built, to preserve and back up your Exchange data. Data security partners such as Mimecast can provide a seamless, secure email experience for your business.
Email Encryption
In 2020, email encryption is a necessity, not a luxury. Email encryption negates unnecessary business risks by protecting confidential employee and client information, such as: banking and routing information, social security numbers, product performance, industry insight, proprietary intellectual property, etc. Encryption also cuts down the likelihood of messages being altered and re-sent for malicious purposes, by providing a clear log of message history and order of delivery.
Multi-Factor Authentication
MFA is a security system that requires users to provide additional forms of authentication, after a password, when signing into email, networks, etc. Depending on the set-up, businesses can implement "conditional access" to analyze user behavior, their device, and location. If user activity deviates from the norm, they will be asked to go through the steps of MFA. If user activity conforms with past patterns, they are granted access to content without additional MFA verification. This avoids MFA-user fatigue, while still ensuring that privileged email content is being accessed securely.
Though email security is a necessary component of a strong cybersecurity posture, it is just one of many factors that contribute to a secure computing environment. iCorps' Managed Security is based on a "Defense in Depth" model, ensuring that your network has different layers for each security category. iCorps' Managed Security provides:
Web content filtering

Strong two-factor authentication

Intrusion detection and prevention

Firewall with deep packet inspection

Learn more about iCorps' Managed Security, including anti-virus email software, today.
Resources