Benefits of IT Outsourcing for Small Businesses
If you're wondering if you have the right ratio of IT resources to end-users, the answer is a definitive maybe. While there is plenty of research out there to support average, or even ideal, IT staff-to-employee ratios, how "right" they are for your specific business depends on many variables, ranging from your industry to the technology that you're using. The deeper question is less about a magic number of IT resources – and more about what it takes to keep your core IT functionality performing reliably, to align your technology with your business goals for better outcomes, and to help your business be more competitive.
Learn How Outsourced IT Gives SMBs Game-Changing Access to Enterprise-Level IT Guidance and Support:
Why Outsourced IT Is a Natural Complement to SMBs
Some experts say that if you're a company with fewer than 200 employees and you're using an internal IT admin or manager, you're out of your mind. It may sound harsh but the reasoning behind that statement is that no single person – not even an IT-dedicated and tech-savvy resource – has the knowledge and skills to manage and keep up with all components of today's rapidly evolving IT environment. With the right planning and the right IT services company as a partner, outsourcing can work to supplement your internal resources, skillsets, and IT strategy.
Outsourcing's potential benefits can be significant, from predictable spend to automation. But in today's complicated world of new delivery models, mobile computing, and BYOD trends the most convincing argument for outsourcing is the access to deep expertise, knowledge, and broad skills that can give you more confidence – and better outcomes – when navigating a rapidly evolving technology landscape.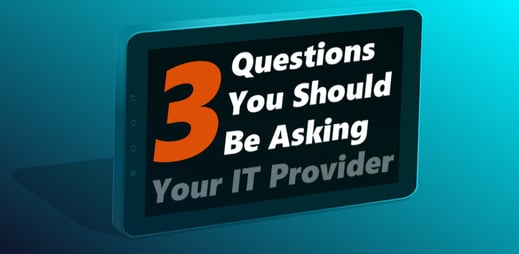 Strategic Staff Augmentation
Just like your technology, your outsourcing IT consulting partner has to be the right fit for your business. Research is essential. Price shouldn't be the sole measurement, but it can be part of your larger assessment as you gain an understanding of the different delivery models available and compare IT vendor services offerings. Most importantly, know what gaps you need to fill. In a survey conducted by SMB Group, one concern by small business owners was that they were missing new solutions that could help their business. Another was implementing new solutions. The top concern? Getting the most out of their current technology investment.
Because SMB resources typically are few and the overall focus is on the business, limited technology knowledge is a main driver behind these concerns: How do I determine what technology to use? Is it installed properly? When do I upgrade equipment such as servers and PCs? Are my systems in compliance? How do I make sure everything works together? Are my endpoints secure?
Outsourced resources can provide vital high-level guidance for selecting the right technology for your business, and have the specialized skills and training to install, integrate, maintain, and secure it properly. Leveraging an IT firm, helps you pull from the company's bench of certified IT consultants who have worked with other companies in your industry and of your size. Through this experience, they are best positioned to help you assess or recommend new or emerging technologies, channels, or delivery models that are right for your business – and that can give you a critical competitive edge.
What does proactive IT look like for iCorps' clients? Find out in this quick video:
Customized IT Solutions
A well-thought-out combination of outsourcing and internal IT resources can help you take control of your technology environment and really make it work for your business. If you're looking for a different class of outsourced IT service, our experts can help. From cloud computing to compliance, we can customize IT solutions to meet your unique business needs. For more information, please reach out to iCorps for a free consultation.