4 Questions to Ask Before Outsourcing IT Services
If you are an IT manager, a CIO, or technology director, you undoubtedly had to ask yourself this question: Should I outsource IT capabilities and trust a managed services provider or keep it in-house? What we can offer you are some questions that you can ask about your business to learn if it is time to consider outsourcing IT services or not.
Here Are Some Basic Questions to Ask Yourself to See If YOU Should Outsource Your IT:
1. Does Your Outsourced IT Provider Stand Above the Competition?
According to Stan Hanks, of Columbia Ventures Corp, "There is a term of art with which you should become familiar: "undifferentiated IT services". That basically means "IT services which are essentially indistinguishable as applied in your organization from the way in which they are applied in any other organization." Alex Charalambides, Chief Operating Officer of LiveTechnology in New York city agrees: If IT is not a core part of your business plan, then it should be outsourced. As a business you need to focus on your competencies and developing an IT team can distract from that.
2. Is there Strategic Alignment between IT and Business Growth Needs?
This question demands that you understand not only your business needs today, but what are the plans for growth two years down the road? Five years? Understanding the goals of your company is imperative in deciding whether to outsource your information technology. This may involve understanding data from other parts of your company, including involving your CFO or CEO in the key decisions.
What does proactive IT look like for iCorps' clients? Find out in this quick video:
3. Is Your Company Prepared for a Disaster?
Like flood insurance for a heavy rainfall, having a disaster recovery plan in place in the event that your infrastructure tanks could mean hundreds, thousands, and even millions of dollars in lost revenue or time. But a big component of IT disaster recovery has absolutely nothing to do with technology according to Thomas Kuhlmann, a Director of IT-based in London, England. "The problem with disaster recovery plans is rarely the technology side," he says. "At the end of the day, you can choose whatever technology you want for ensuring recovery in case of a disaster. The biggest problem seems to be the human component."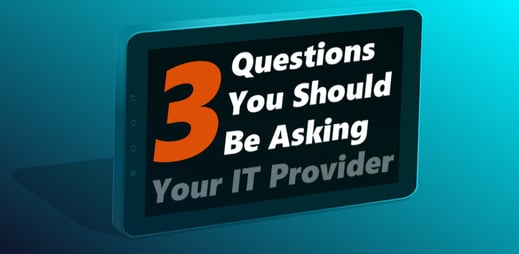 4. How Large Is Your Company?
After an informal poll we did here at iCorps Technologies, we found that different businesses are on different models. While the big push is to go to the cloud, some companies still prefer to maintain their IT infrastructures with an on-premise solution. 21% of the companies we polled are actually on a hybrid model for their IT. All of this will factor into your decision and what is best for your company.
We hope these questions and their answers have given you a start to understanding if you should outsource your IT services. While there are many more questions to ask, you can probably start to see that this is not an issue that should be taken lightly. Engaging a professional to give you an assessment of your technology infrastructure, your business goals is the best way to make the right decision for your business. If you're looking for a different class of outsourced IT service, our experts can help. From cloud computing to compliance, we can customize IT solutions to meet your unique business needs. For more information, please reach out to iCorps for a free consultation.