2018 Trends in IT & Technology Adoption from Spiceworks
As is tradition this time of year, the IT community is abuzz with projections for 2018. Which emergent technologies will take center stage in the business community? How will changing data breach reporting requirements affect U.S. based companies? What will cloud usage look like, and which managed services will prove most popular among businesses of varying sizes?
Here are the 2018 IT Trends from Spiceworks
Spiceworks IT Community
Luckily, the Spiceworks IT community has been asking the same questions. In Spiceworks annual "State of IT" report, their researchers have outlined a number of projections for 2018, based on input from businesses in North America and Europe. Here are the most noteworthy things we read.
There were a few predictions that we expected to see. In response to the EU's pending General Data Protection Regulation (GDPR), which rolls out in May 2018, IT departments are making much-needed adjustments. For some, this means designating a larger portion of the budget in preparation for GDPR related expenses.
As per the report, 43% of companies have allocated for a GDPR budget, and European companies have been more generous in their allocations.




Image Source: Spiceworks, The 2018 State of IT
There is also increasing demand for IT structure that supports a mobile workforce. This includes resources for remote workers, integrating BYOD policies into company-wide security plans, and leveraging tools that promote employee collaboration. The effect is greater demand for cloud-based capabilities.
The

most common workloads supported by the cloud

are

: communications/collaboration (42%), backup/disaster recovery (41%), and productivity apps (29%).




As the economy continues to improve, there will be greater overall spending on IT expertise and infrastructure. Companies of all sizes will be leveraging innovative technologies to remain competitive in their respective markets.
Roughly 44% of companies expect to increase their IT spending, with an average increase of

19%

.

45% of companies anticipate an increase in IT staff, to accommodate new hardware, software, and services.





Image Source: Spiceworks, The 2018 State of IT
Given the projected budgetary and staff increases, certain categorical expenditures are predicted across the board.
31% of budgets will go to hardware costs, 26% to software, 21% to hosted and cloud-based services, and 15% to managed services.

Looking specifically at

the l

ast

two: this year will see a 42% increase in mana

ged services, and a 55% increase in hosted/cloud-based services spending.

Currently,

the

most

popular managed

services

are:

hosting

,

storage/backup, hardware support, and security.




So what does this mean for the cloud? As the cloud continues to grow in popularity, spending on a diverse range of supported services is only expected to increase.
Within cloud spending, different sized businesses have slightly nuanced cloud spending: small businesses will invest more in web-hosting and data backup, medium businesses will focus on Infrastructure-as-a-Service (IaaS) and cloud-based security, and large companies will spend more on Platform-as-a-Service (PaaS).

Image Source: Spiceworks, The 2018 State of IT
Other notable discoveries:
N

orth American

companies are more

likely to utilize the cloud for data backup and disaster recovery.

The most common motives for switching to the cloud include:

enhanced disaster recovery capabilities

(42%),

enhanced disaster recovery capabilities

(38%),

increased flexibility

(

37%

),

and

reduced burden on IT staff

(

36%

).

Smaller companies prioritize manages hosting, which larger businesses invest in managed cloud infrastructure.

In one of the final sections of Spiceworks' report, more than half of surveyed companies attributed their interest in new tech to end-of-life or growth-based needs. While this choice is often justified from a budgetary perspective, waiting until hardware or software reaches its end-of-life stage is a risky approach to IT. Too often, hard and software failures result in lost data and downtime and signify a larger reactive, costlier approach to IT management.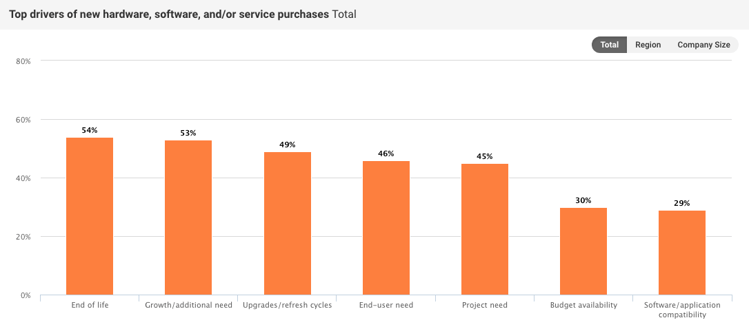 Also notable, was the relative omission of research on cybersecurity spending. Although security accounted for roughly 10% of projected software budgets, and the top fourth managed service, there was little else on this particular subject. Fortunately, other research groups have been focusing on cybersecurity spending, which is invaluable when you consider the following:

As cybersecurity events continue to make national and global news, certain budgetary patterns have emerged in response. Overall spending trends indicate a transition from reactive, prevention-based security, to proactive detection and response.

In light of this information, the most successful businesses understand that their IT infrastructure runs most efficiently from a proactive standpoint, with technicians who manage and anticipate issues before they arise. For information about positioning your business for long-term success, contact an iCorps professional.
Resources