Good Chemistry: Life Sciences & IT Services
Pharmacological and life sciences companies understand the value of data. From ground breaking research, to intellectual property, to collaborative endeavors with other facilities—data is its own form of industry currency. Which is why it is absolutely imperative that companies in this field take extra precautions to secure their content.
Importance of IT Services in Life Science Companies
Signs and Symptoms
To better understand the state of cybersecurity in the life sciences, it is essential to know what cybercriminals are looking to gain. In the recent "Cybersecurity in Pharma Report", researchers found that the life sciences industry drew particular attention from nation-states (53% of attacks), individuals hackers (49%), hacktivists (47%), and insider threats (44%).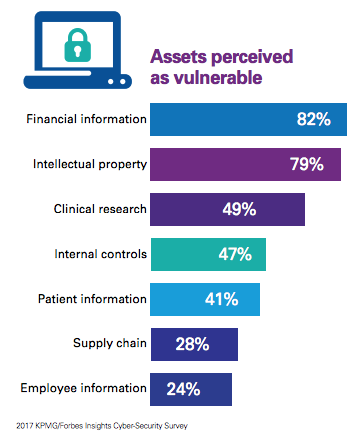 For example, as whole, the life sciences industry has experienced considerable consolidation within the last few years. A reported 40% of biotech and pharmacological companies have participated in a merger or acquisition within the past year. While these processes have been incredibly beneficial for many of the involved businesses, there is one area of recurring oversight: consolidating IT systems.
Consequences of Lacking Integration
Without careful and planned integration, these patch-worked IT networks can have potentially devastating consequences. Poor execution may result in poorly rendered access controls or mis-alignments, gaps in security policies, procedures, and workflows. This can lead to a range of complications, including:
Difficulty detecting and assessing security threats
Unforeseen gaps in governance across operations
Inadequate assessment of third-party or vendor security
Inability to collaborate or dock with other companies due to security liability

Of course, clinical research partners aren't the only ones in contact with potentially sensitive data. Companies must also consider how their data is shared with contract manufacturers, marketing organizations, contract sales people, staffing agencies and contractors, and vendors to which they outsource business processes. As a company's attack surface grows, they must consider all of these things.


Quick Tip: Want to learn more about how iCorps is helping Life Sciences company SmartPharm optimize their research processes? Read the case study here.

Another issue within the life sciences field, is the rise of wireless sensor-based medical devices. These devices have tremendous use - they can provide an interface for patients, improve communication, and relay diagnostics. However, this sensitive information also makes them attractive to cybercriminals who are looking to destroy, or intentionally alter patient or drug data.
A recent study from KPMG reports that for sensor-based devices:
52% of attacks target the device management software
32% of device label tampering is done by hacking a supply chain partner

These threats can be seriously curtailed through the use of encryption, secured operating systems, and memory protections against malware. For more information about protecting your biotech company, reach out for a free consultation.
Resources