iCorps Partners with Hildebrand Family Self-Help Center
BOSTON, MA – For the third year in a row, iCorps Technologies partnered with Hildebrand Family Self-Help Center, a Cambridge, MA-based nonprofit organization committed to helping families experiencing homelessness achieve self sufficiency. During its annual Holiday Party, iCorps employees raised $925 in gift card donations to provide clothing for teens and children at Hildebrand's emergency shelter. iCorps then matched its employees donations bringing the total donated amount to $1,850.
The matched donation amount will go toward operating expenses related to providing emergency shelter to families currently experiencing homelessness, said Hildebrand's Director of Programs Kelly Duda.
"We have an immediate need for operating funds to purchase safety doors, security cameras, and upgrade the heating system in one of our play spaces, so your support will help cover the cost of some immediate issues that have arisen in just the past few days to months," Duda said. "Thank you so much."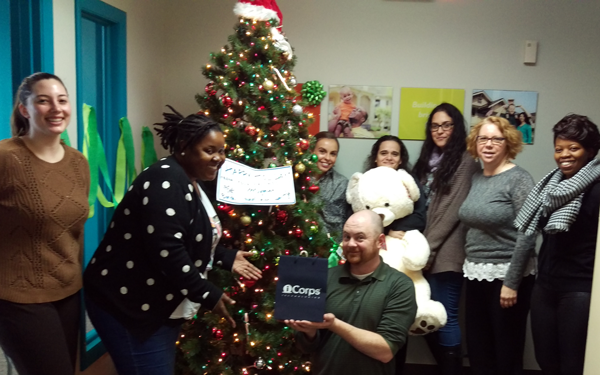 Hildebrand employees pose for a picture with iCorps' donation.
Hildebrand partners with families experiencing homelessness, by providing shelter, permanent housing, work readiness programs and life skill development. iCorps recognizes the important work that Hildebrand does for the communities around Cambridge and Boston, and how businesses can help further that impact.
"During this holiday season of giving, we're happy to have the opportunity once again to partner with an important local organization like Hildebrand that is helping families in need," says Michael Hadley, iCorps' President and CEO. "This partnership gives us the occasion to pay it forward to those in our community, which has been a core value of this company since day one. Thank you to our generous iCorps employees and to the Hildebrand staff for the great work that you do."
More About Hildebrand Family Self-Help Center
Hildebrand Family Self-Help Center, Inc. is a 28-year-old independent nonprofit organization with a mission to partner with families experiencing homelessness to achieve self-sufficiency. Exclusive to families, Hildebrand began as an outgrowth of a social action ministry of the St. Paul AME Church in Cambridge. Today, recognized as one of Massachusetts's largest providers of emergency shelter for homeless families, Hildebrand supports 214 families in their shelter and stabilization program. Additionally, Hildebrand operates permanent housing on a $5.6 million budget with a staff of over 60 employees.
About iCorps
A pioneer in IT services and solutions since 1994, iCorps Technologies provides the best certified expertise in every aspect of technology - including Managed Services, technology consulting, IT support and cloud computing. iCorps services can be provided either a la carte or as part of a comprehensive outsourced IT program, depending upon a business's specific requirements and budget. iCorps customized, scalable and business-driven solutions put technology to work - driving companies to be more profitable, productive and competitive. iCorps has offices in the Boston, New York, Philadelphia, Detroit and Charleston areas and serves businesses across the Northeast region. For more information, visit www.icorps.com.