How You Can Benefit from SMB Managed IT Services (MSP)
Running a successful business in a competitive market takes more than just mere luck. You need to make the best, most strategic use of the tools available on the market. As a small to midsize business (SMB), you aren't only attempting to stand out against similarly sized companies, but to level the playing field against large corporations dominating the industry at a national and global level. Imagine being able to keep up with the demands of your growing business, from sales and marketing to IT.
Managed IT Services (MSP) can support your in-house staff or provide full coverage, providing a range of benefits for your SMB.
IT Support, for Fully Outsourced or Hybrid Departments
Whatever your current IT setup and wherever you plan for it to go, an MSP can help to optimize your company-wide productivity. By taking over duties like remote help desk, network monitoring, security (anti-spam, encryption, firewall management), and cloud services, an MSP can provide help where you need it most. Contracting IT support out to a third party that you trust bridges gaps in your coverage where your processes are especially vulnerable, whether they're carried out as part of a hybrid or fully outsourced solution.
More Effective Use of Internal Staff
Without the time wasted on fielding end-user inquiries, troubleshooting, or handling the ticket queue, your people are freed up to better serve the company. With extra help brought in as needed for projects and expert consulting, your senior IT staff can spend more time on strategy, building a better department, and implementing more effective processes that ultimately add to the productivity of your entire company.
Predictable Spending
One of the greatest advantages by far of contracting with a managed IT services provider is the ability to account for and anticipate monthly spending. Knowing how much your bill for IT support will give you greater peace of mind. Saving money on the regular oversight and maintenance of your network and systems will enable you to plan for future department needs, including growth, hiring, updates, and repairs.
What does proactive IT look like for iCorps' clients? Find out in this quick video:
Scalable IT Infrastructure
As your company changes and expands, so can the managed services you require. You may need to outsource duties as your internal IT staff is pulled for backup on higher priority jobs or to help with managing the increase in personnel and workload. An MSP can not only help with contract plans and services, but they can also aid you in assessing what your IT needs are, what they may become, and how they can be met.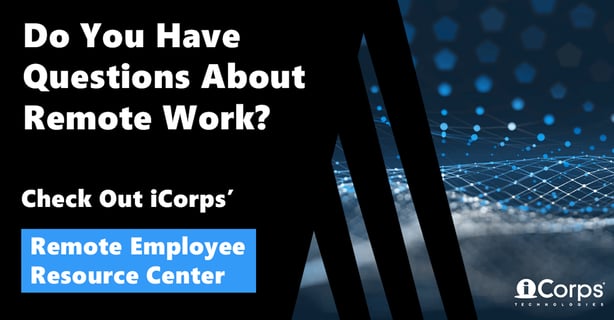 Defense-in-Depth Security
At any size, your business needs security in place to prevent data compromise via human error or cybercrime. Internal teams may oversee these vital tasks from the start, but bringing in third-party consultants who are well-informed of the latest security threats, as well as well-trained to implement security technologies, can arm your SMB with reinforcements. An MSP can deliver the added security on-premise and in the cloud to guard your vital business data against exploitation by ransomware.
Year after year, tools become available to SMBs that were previously only attainable by large corporations with equally large budgets. Now that these services are no longer as exclusive or cost-prohibitive, you can enjoy many of the same benefits. A managed IT services provider can make a small to midsize company as secure and streamlined as a huge multi-national. With this kind of help, you can spend less time worrying about how to manage your current IT needs and focus on the future.
If you're looking for a different class of managed service, our experts can help. From cloud computing to compliance, we can customize IT solutions to meet your unique business needs. For more information, please reach out to iCorps for a free consultation.