Construction Technology Trends to Watch in 2019 (3 IT Solutions)
Construction technology remains a frontier of workplace innovation as more companies are embracing the configurable, client-facing solutions on offer. But what exactly are these options, and which are set to pave the way in 2019? J.B. Knowledge recently released its 7th annual "Construction Technology Report," pulling from over 2,800 domestic and international construction professionals. Here are the construction technology trends predicted for 2019.
Here are the Technology Trends to Watch in 2019
Enterprise Content Management
In an effort to avoid redundant systems and misplaced data, construction companies will be prioritizing management software. This type of software is ideal for construction companies, and their characteristically distributed employee structure. These business IT solutions expedite inter-departmental communication and processing, which leads to faster, well-informed decision making. Management solutions are highly scalable, adapting to employee and company growth, and can be accessed remotely. Construction professionals also benefit from: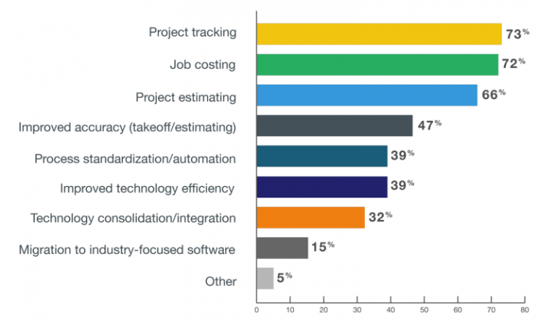 Image courtesy of Project Management.
On Site with Big Data
More construction companies are embracing AI and machine learning as a means of predicting project outcomes. By creating these projections, businesses are able to improve the quality of their work by prioritizing project components and heightening the productivity of their employees. This ultimately yields lower costs for their clients and reduces the risks both on site and off. Furthermore, companies are actively integrating drones and 3D printing.

Image courtesy of Project Management.
Building Information Modeling (BIM)
BIM has become a growing fixture among construction companies, as more employers are embracing modeling software in the design process. The most cutting-edge BIM tools allow clients to "walk through" and experience their buildings before construction begins. BIM also allows for smoother collaboration, as clients and employees can share information across platforms in real time. This technology, combined with the rise of Bring Your Own Device (BYOD) policies and mobile support, is optimizing client access across platforms.
Related content: Want to learn more about construction technology? Find out here.
IT from the Ground Up
Construction innovators understand that business technology and long-term IT planning must be at the forefront of what they do. If you are looking to transform your construction infrastructure, 2019 is the year to do so. By leveraging the benefits of iCorps' hybridized and outsourced IT support, your company can focus on what really matters—a quality product and business longevity. For more information on emerging construction technology trends, contact an iCorps expert today.
Resources